7 Things Jesus Never Said
---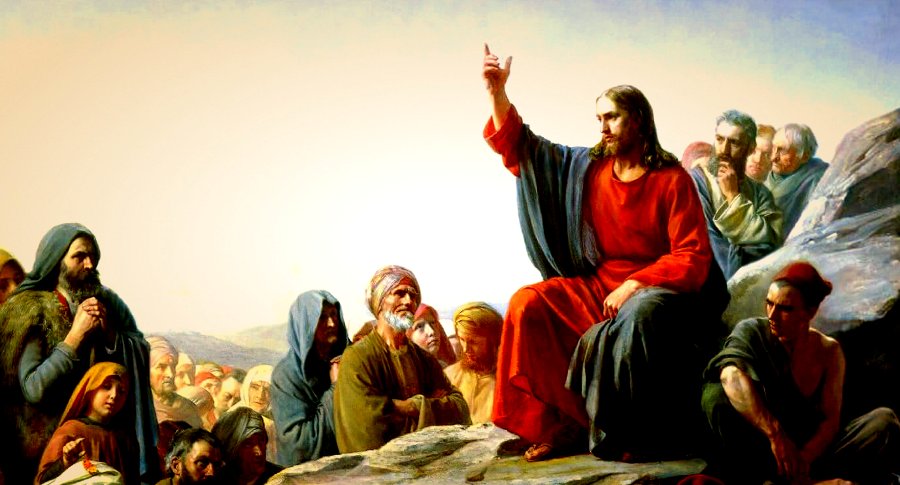 The following are 7 funny things Jesus never said, along with what he really did say.

1. You should never talk about religion in public. It's uncomfortable and rude.
It can be uncomfortable talking about religion in public, but if it is true when Jesus says, "I am the way, the truth, and the life. No one comes to the Father, but by me." (John 14:6 WEB) Then talking about religion anywhere is kind of important.
As Christians, we are all expected to fulfill the great commission to "Go, and make disciples of all nations, baptizing them in the name of the Father and of the Son and of the Holy Spirit, teaching them to observe all things which I commanded you." (Matthew 28:19-20 WEB)
2. It doesn't really matter what you do, as long as deep down you're a good person.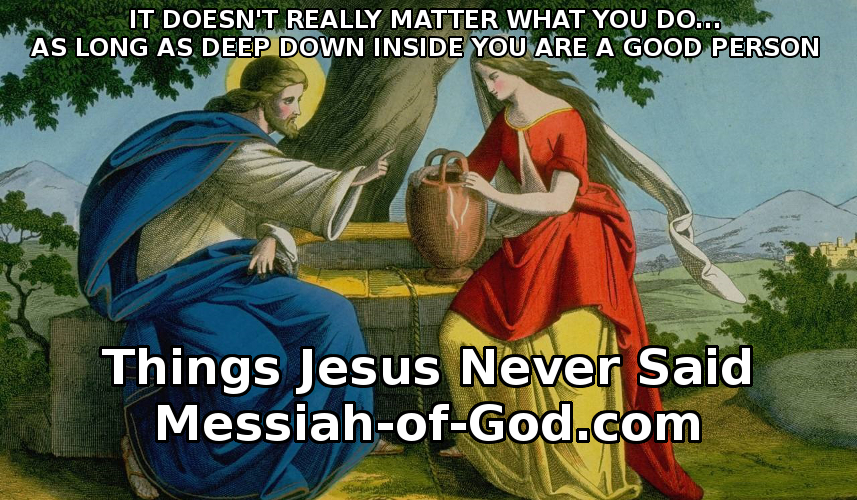 In the Parable of the Sheep and Goats, Jesus explains that the criteria for separation is completely based on actions. The king tells the unrighteous, "for I was hungry, and you didn't give me food to eat; I was thirsty, and you gave me no drink; I was a stranger, and you didn't take me in; naked, and you didn't clothe me; sick, and in prison, and you didn't visit me." (Matthew 25:42-43 WEB)
So yeah, according to Jesus, our actions kind of matter. James says, "Faith, if it has no works, is dead in itself." (James 2:17 WEB)
3. Sorry, I can't heal you. You have a pre-existing condition.
In John 9, Jesus heals a man born blind. When asked if this man was blind because of sin, Jesus says, "Neither did this man sin, nor his parents. But, that the works of God might be revealed in him..." (John 9:3 WEB)
In Luke 8:43-48, a woman who had been bleeding for 12 years is healed by Jesus. He tells her, "Daughter, cheer up. Your faith has made you well. Go in peace." (Luke 8:48 WEB)
4. Has no man condemned you? Then neither do I condemn you. Now go and do whatever makes you happy.
In John 8, a woman is accused of adultery and is about to be stoned. Jesus says to her, "'Did no one condemn you?' She said, 'No one, Lord.' Jesus said, 'Neither do I condemn you. Go your way. From now on, sin no more.'" (John 8:10-11 WEB)
Sin no more...yep, that's definitely not the same as go and do whatever makes you happy. After all, Jesus says, "How narrow is the gate, and restricted is the way that leads to life! Few are those who find it." (Matthew 7:14 WEB)
5. Judge not, let ye be judged; and by that I mean remain silent when you see others do evil.
Sometimes silence is a sin.
When Jesus makes this statement about judging others in Matthew 7:1, he is talking about the hypocrisy of judging someone else for a sin while you commit the same sin, saying, "Why do you see the speck that is in your brother's eye, but don't consider the beam that is in your own eye?" (Matthew 7:3 WEB)
On the contrary, when it comes to others committing sin, Jesus says, "If your brother sins against you, go, show him his fault between you and him alone. If he listens to you, you have gained back your brother. But if he doesn't listen, take one or two more with you, that at the mouth of two or three witnesses every word may be established. If he refuses to listen to them, tell it to the assembly." (Matthew 18:15-17 WEB)
Paul too had no problem judging someone's sin, especially someone who claims to be a believer. "For I most assuredly, as being absent in body but present in spirit, have already, as though I were present, judged him who has done this thing." (1 Corinthians 5:3 WEB)
6. If the world hates you, change until they love you. Everyone will like you for being my follower.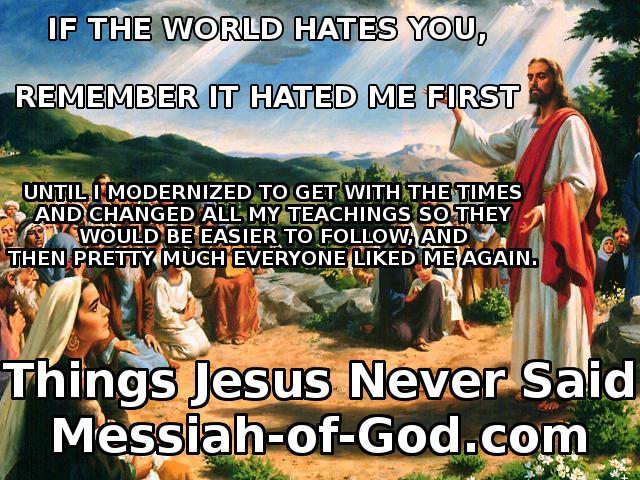 Jesus says that the world only loves its own. "If you were of the world, the world would love its own. But because you are not of the world, since I chose you out of the world, therefore the world hates you." (John 15:19 WEB)
Rather than change, Jesus says to stand out, "You are the salt of the earth, but if the salt has lost its flavor, what will it be salted with? It is then good for nothing, but to be cast out and trodden under the feet of men. You are the light of the world. A city set on a hill can't be hid." (Matthew 5:13-14 WEB)
7. Peter, do you love me? You know I do Lord. Then share that Facebook post.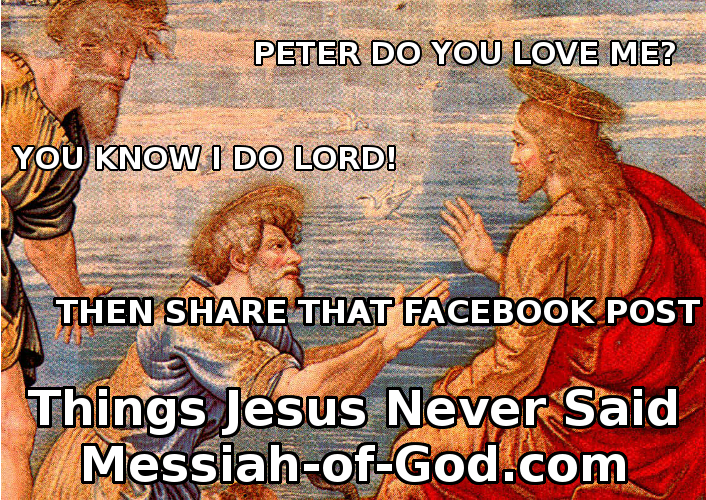 Well now, maybe sharing Jesus on Facebook isn't such a bad thing. Share the humor with your friends!
← Back to Christian Sermons from 7 Things Jesus Never Said