Christian Sermons
---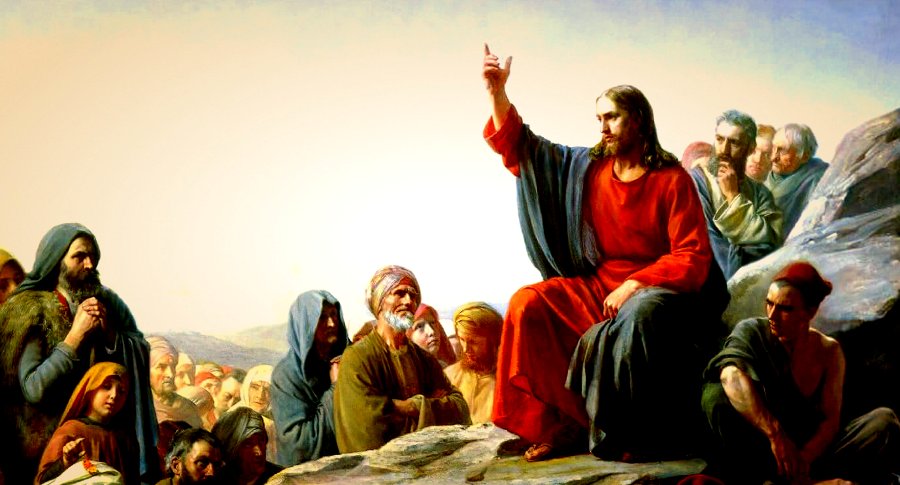 When teaching others about the Bible, it is important to make sure that we are teaching correctly, "for you know that we who teach will be judged with greater strictness." (James 3:1)
Otherwise, we may be found to be unintentionally leading others astray just as the Pharisees did - the blind leading the blind (Matthew 15:14).
In order to teach others correctly, it is important to derive meaning from the context of scripture. Reading a whole section is often necessary, and sometimes reading an entire book of the bible is necessary to understand the meaning of one verse.
We can ask ourselves two questions:
1. Based on the immediate context before and after this verse, what is the author/speaker saying?
2. Based on the context of the entire bible, what is taught on this subject elsewhere?
The Importance of Context in Understanding Meaning
---
For example, in John 5:14, Jesus says to a man he has healed, "See, you have been made well! Do not sin any more, so that nothing worse happens to you."
Based on this verse alone, it appears that Jesus is teaching that this man's sickness and tragedy are caused by sin, which is why Jesus tells this man to not sin. However, in this context (Question 1), Jesus is not really teaching anyone; rather, he is giving this man specific instructions on how to behave now that he has been healed.
(Question 2) Now we need to consider, does Jesus teach about this subject elsewhere? In John 9:1-3 it says, "As [Jesus] went along, he saw a man blind from birth. His disciples asked him, 'Rabbi, who sinned, this man or his parents, that he was born blind?' [Jesus answered] 'Neither this man nor his parents sinned,' said Jesus, 'but this happened so that the work of God might be displayed in his life.'"
In this context of John 9, his disciples ask him a specific question regarding the connection between sin and illness, to which Jesus responds with a teaching of 'illness is not always caused by sin.'
Again (Question 2), does Jesus teach about this subject elsewhere? In Luke 13:2-4 his disciples again ask Jesus a question regarding the connection between suffering and sin, to which Jesus responds, "Do you think that these Galileans were worse sinners than all the other Galileans because they suffered this way? I tell you, no! But unless you repent, you too will all perish. Or those eighteen who died when the tower in Siloam fell on them--do you think they were more guilty than all the others living in Jerusalem? I tell you, no! But unless you repent, you too will all perish."
With these two teachings in John 9 and Luke 13 taken into consideration, we can more clearly see that Jesus is telling this man in John 5 what he has essentially told the people of Jerusalem in Luke 13, "But unless you repent, you too will all perish" or more specifically to this man he has healed 'You have repented; now do not sin anymore so that you do not perish.'
With Question 2, we could continue to look for other examples in the bible where other authors or books of the bible teach about this subject. Another example would be in the book of Job, where a righteous man (Job) experiences tragedy even though he has not sinned.
List of Christian Sermons
---
The following are a list of Christian sermons (or teachings) that are categorized by subject. Some of these teachings may only be suitable for more mature Christians, because they are teachings difficult to accept or understand.
If you are a pastor looking for a Christian sermon to teach your congregation, you will need to decide how ready your audience is to accept each teaching. For shorter teachings, view the Christian Sermons used for the Weekly Sermon newsletter. Also see the Christian Questions and Answers page for more ideas.

Sermons on Christian Living
Meaning of Repentance and Salvation
Miraculous Physical Healing Explains Salvation: The Truth of Jesus' Salvation

Can a Christian Lose Salvation?
Spiritual Warfare: What to do When You Are Being Attacked
Obeying Governing Authorities and the Laws of the Land

How to Know When God is Speaking to You
Doubting After God Answers Your Prayers
Sermons on Jesus Christ, God, and Holy Spirit

Jesus Speaks in Figures of Speech
Trinity: The Plurality of One God
Holy Spirit's Role in Evangelism
Blasphemy in the Bible: What is Blasphemy of the Holy Spirit?
Watch Out! Beware! The Warnings of Jesus Christ
Sermons on Misunderstood Bible Verses
Prosperity Gospel: Tithing and Televangelists

Are All Things Possible for God?
Things Jesus Never Said

3 Things Jesus Never Said About Judging
5 Things Jesus Never Said About Being Christian
5 Things Jesus Never Said About Salvation
4 Things Jesus Never Said About Sexual Sins
Theological Debates
Homosexuality Debate: Atheist Lawyer vs Christian Lawyer
Weekly Christian Sermons

View Christian Sermons used for the Weekly Sermon newsletter as well as teachings submitted from fellow believers, or spread the gospel worldwide by contributing your own Christian teaching.

← Back to Messiah of God Home from Christian Sermons